If you need to replace wooden fascia, this probably indicates that the building is 20 years or more old and, where fitted, the roofing felt under the tiles should be checked at the eaves. Felt often deteriorates at this point and, if necessary, it should be replaced up to the first batten (or, as a minimum, 12 inches (300 mm)). When fitting new felt, ensure that it projects about 3 inches (75 mm) over the fascia and is fitted under the existing felt so that any water runoff runs onto the new felt rather than under it. See Felt Replacement product.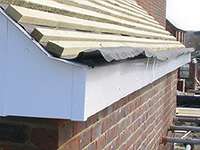 Allow 5 mm clearance at each end of the material to allow for expansion.
Fit a cover strip at each joint and corner.

Before starting to fix a length of fascia or cover board, clear a whole side of the building of guttering etc. and fix a horizontal builders string line along the side of the building so that all sections of board can be levelled to the same line.