Unless you are fitting guttering to a new building, you will need to remove the old guttering. Old plastic guttering is simple to remove, but you should take great care with cast-iron guttering as it is extremely heavy, and can have sharp edges. Wear stout gloves to handle it and lower it to the ground with a rope.
If the screws holding the old gutter or gutter brackets to the fascia have rusted in place, saw through them with a hacksaw. To remove brackets secured to the rafters, you may need to lift the edge of the roof covering.
If the bolts holding cast iron guttering together are rusted in place, saw them
off with a hacksaw (2).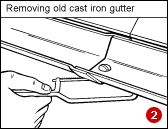 Take the opportunity to refurbish the existing fascia board, filling all screw holes, stripping off flaking paint and re-painting or re-staining as required.
You may wish to fit new upvc fascias and soffits at this stage. Have a look at our fascias and soffits.