Two sizes of guttering cover most domestic situations:
75mm half-round gutters and 50mm circular downpipes for sheds, greenhouses and small detached garages.

112mm half-round gutters and 68mm circular downpipe for houses and large detached garages.
If you live in a large house or in an area of high rainfall, you may need a gutter which has a greater capacity - either 116 x 60mm 'square' guttering (used with 65mm square downpipe) or 120 x 75mm 'ogee' guttering (used with square or round downpipe).
Planning the work
Whether you are planning to replace the entire guttering on a house, or just one side of a garden shed, following these few simple tips will make the job much easier.
Make a sketch plan of the house or outbuilding, and write down all the relevant dimensions. Work in metric units as this is how guttering is sold.
If you have difficulty measuring the height of a house, simply count the number of brick courses from the ground to the eaves and divide the answer by 13 to get the length of downpipe you need in metres.
Work out the lengths of guttering and downpipe you need and fill in a checklist for the necessary components (1).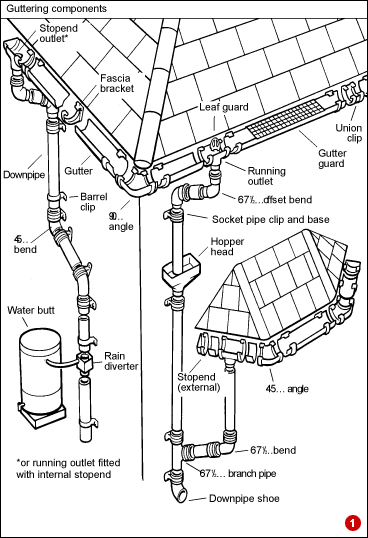 Fascia brackets should be placed no more then 1m apart.
Stopend outlets, running outlets, union clips, angles and stopends need a supporting fascia bracket within 150mm both sides of the fitting.
Watch out for Ogee gutters: 90 degree corners are either internal or external. Stop Ends are either left handed or right handed.
Always over-estimate when ordering. It is better to have too much gutter/pipe rather than too little.